About Little Bank
Let us introduce Little Bank our newly renovated cottage located in Millers Dale, a steep sided valley on the River Wye in the Derbyshire Peak District.
The cottage occupies a unique position on a south facing hillside.  It has a cosy and stylish interior and a relaxing outdoor space.  With  fabulous views across the valley, a local pub less than 5 minutes walk away and the wonders of the Peak District on your doorstep, we hope that your stay at Little Bank will be memorable.
Multiple footpaths in all directions including Millers Dale and Monks Dale are straight from the door.   The latter being listed as a National Nature Reserve.  Don't forget your walking boots!
With beautiful walks alongside the River it is also a haven for lovers of nature and wildlife. The  dramatic scenery with towering limestone cliffs and overhanging rocks are frequented by thrill seeking climbers.
The very popular Monsal Trail can be accessed from the old Millers Dale station. This is a 12 mile section of the former railway line that runs from Bakewell to east of Buxton. Its route which meanders through the limestone Wye valley can be enjoyed by walkers and cyclists of all ages and abilities and covers some of the most picturesque scenery the heart of the national park has to offer.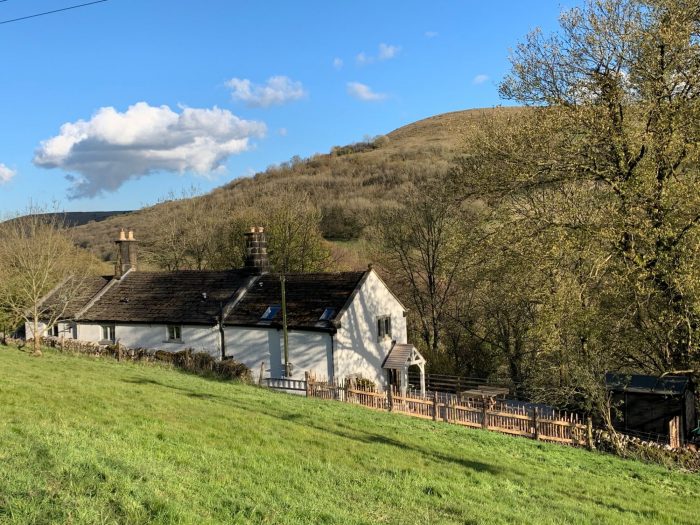 A Little Bit About Us
We are Lou and Alan Renfree.
We have lived in the Peak District for over 30 years and feel very lucky to live in this beautiful part of England which is easily accessible to people from both the North and South.
We moved the huge distance of five and a half miles when we purchased this property in 2017 and have spent the intervening four years renovating and improving our home, Bank Top Cottage, and subsequently Little Bank.
We are keen walkers, outdoor enthusiasts, and dog owners. A very special member of our household is Peg a young and very characterful rough haired lurcher. I'm sure she will want to introduce herself to you during your stay. Big and bouncy but fear not she is very friendly.
Alan, a retired civil engineer, is also a keen cyclist and fell runner and will be very pleased to share his local knowledge in all outdoor matters. Lou had a retail business in Bakewell for 12 years, but now runs her website alongside a 'By appointment' shop from the house.
If you like the 'modern rustic' interior at Little Bank you may like to pop in to the shop at the end of your stay to purchase maybe a Swedish Tea Towel or some lovely French soap.
Take a look at the website:
chaletathome.co.uk